Normal Set up time:

Less than 10 minutes!

Almost 2 hours or more.

Water used:

10 gallons or 100, you decide on
the amount of Splurshing fun.

500 very very very cold gallons!

Supervision

None needed when not in use!

Required at all times due to the
water dangers, just like pools.

Age

2 to 100! Something everyone can
enjoy!

Teens or adults only because of
the deep tank. What fun is that?

Cleanliness

Fresh water every time!

Same water, time after time,
person after person, YUCK!

Fun Factor

Pitch Burst is the winner! Wave of
the future!

Dunk tanks sink into the past!

10 GREAT WAYS TO PLAY PITCHBURST®



Unique, new and always fun for: parties, fund-raisers, corporate and community events, carnivals, camps, promotions and more. Easy play for families, young kids, preteens and teens, adults of any age!
Simplest low-risk water game you can find for special events - the water falls, people don't, so there are no size, age or physical restrictions. Not just water -- you can play with confetti in the balloons...or "slime"...or flour...or any fun "fillings comes with 200 balloons or confetti
Rate: $150.00







Boom Blaster combines the excitement of a balloon-popping contest with a safe, authentic-lookingblasting detonator straight from the Saturday cartoons. Two or more players frantically pump, inflating their balloons until they reach the balloon-bursting arcs. First to burst - BOOM! - is the winner.
Rate: $65.00 single / $110.00 double / 150.00 triple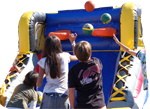 Mini All Star Hoops
The Mini All Stars inflatable basketball game is the perfect addition to any indoor or outdoor event. Players will be lining up to take their shot at the dual hoops, which allow for plenty of action, fun and competitive spirit as players shoot it out with mini basketballs. (6 mini basketballs)
9'7"L x 9'4" W x 7'8"H
Rate: $85.00




gw


14' Hi-Striker
A classic carnival attraction that has been used to test human strength for years and years! Our versions of this time tested event are truly festive, High Striker stands 14 feet high.and trailer mounted. You will be amazed by this excitement created by this updated version of the old "ring the bell and win a prize" game
Rate: $125.00








Clown Kiddie Striker or Classic Kiddie Striker
Which child can resist picking up the maul and banging away on a kiddie Striker? With sizes for kids 7 and under, you can't go wrong with this incredible carnival game. People play it time after time to try and ring that bell. Great for any event. Easy to use and fun to play
Rate: $65.00





Cash Cube
You wanted it, you've got it! Finally a practical money machine,hands down the best value on the market. Great for many types of events as you can circulate money or coupons.
4' L x 4' W x 10' H
Rate: $65.00 ea.







Big Foot Racing
The perfect item for any event that calls for a fun & zany game. Each racing team is made up of three people, and in order to get anywhere, the individual team members must work together as a group. This item is ideal for both teens and adults. And best of all, it makes huge strides in developing teamwork and cooperation, creating a hilarious event
Rate:$50.00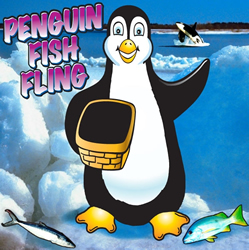 Penguin Fish Fling
Children stomp on the launcher, flipping the rubber fish into the penguin's picnic basket. Kid's love it! And you'll love it too
7 x 7 Frame Game
Rate: $50.00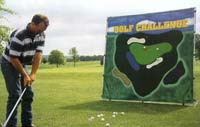 Golf Challenge
The colorful backdrop, which is designed to look like a golf course, is Velcro receptive, so the special Velcro practice golf balls stay right where you hit them. For pros or novices alike this game can quickly become addictive.
7 x 7 Frame Game
Rate: $50.00







Quarterback Toss
Its a winner at any sporting event, fund raiser, or carnival. It's a very simple game but irresistible! No football player or football player want-to-be can walk by this game without giving it a shot.
7x7 Frame Game
Rate: $50.00








All Aboard
All Aboard! brings the account of Noah to life as kids learn to be obedient to God. Children toss the animals two by two into Noah's ark! At 5' X 5'
5x5 Frame Game
Rate: $40.00














Tic Tac Toss
Its smaller than the traditional frame-game, making it much more convenient.
Tic Tac Toss can be packaged together to create an attractive rental.
5x5 Frame Game
Rate:$40.00







Pit Stop Challenge
Pit Stop Challenge brings all of the energy and excitement of Stock Car Racing to any party or event. Challengers race against the clock in a frantic effort to have the fastest change. Great to compete against
11x7 Frame Game
Rate: $125.00

Great Places To Have Pit Stop Challenge

Pit Stop and Parties
The perfect way to entertain your teenager and guests at a birthday party.

Company Picnic
Let your employees see who can get the best time. Give a prize to the winner!

School Carnival
Kids love to get their hands on the air impact wrench. Graphics of the race car will enhance any event.

Promotions
Perfect for any automobile related business. Tire Shops, Auto Dealers, Auto Parts Stores, etc. Have a DJ show up with Pit Stop Challenge and invite the public to take the challenge to beat the time and win a prize.

Car Cruise
Add some excitement to your next car cruise with Pit Stop Challenge.

After Prom Activity
Pit Stop Challenge will keep the students entertained all night as they try to get the best time and become the Pit Stop King.


Conk The Crow
This colorful and sturdy 7'x7' game is perfect for the little ones! Kids love to throw the bean bags and knock down the crows sitting on the farmer's fence.
7X7 Frame Game
Rate: $50.00


Fun Spin Art
Spin Art is a hit at children's birthday parties, school carnivals, virtually anyplace! Create hours of fun at your next childrens' event with a few bottles of paint, cards and the Fun Spinner.
12"H x 14"W x 18"D
Rate: $60.00





Duck Pond
The game are a hit at children's parties, school carnivals, daycares, virtually anywhere kids of all ages gather. Get for prize winning.
26"H x 60"W x 24.75"D
Rate: $60.00






JUMBO GAMES











Monster Basketball
No longer is winning a matter of height or skills that only some can excel in. In this game, out thinking your opponent is most important! You can try to pass the ball, kick it, or dribble it...how ever you choose, will you be the smarter player? This game is truly for the ones who love to have fun. It comes with one 24" & 37" basketball
6' ft. or 8 ft. H
Rate: 6' $50.00
8' $75.00






Monster Soccer
Play soccer at the next level of fun It come with one 37" PVC giant soccer ball
10FT W X 7ft H
Rate: $75.00






Jumbo Twister

If you thought the game twister was fun you will love our Inflatable Super Twister!! Left Hand Red, Right Foot Blue!! Twist, turn and bend, while trying to keep balance on an inflatable twister mat!! Interactive fun for the whole family!!! Excellent for family game night, team building, school carnivals, and any other interactive event.
12'L x 12'W x 2'H
Rate: $100.00




Jumbo Boxing Gloves
Now you can enjoy having fun without a boxing ring at a lower cost. Get for ages 8-up
add bouncer to make it a boxing bouncer for additional cost. Rate:$50.00




Jumbo Connect Four
See how you stack up against your competition in this jumbo game of connect four. Just like the classic game, but bigger, taller, and enjoyable. Get for childrens parties, school, churches, family gathers. Stands 43" tall
Rate: $50.00
S






The customer may request any time as needed
*Supplies for items can be purchased from King Kidz Fun Rentals
*Price includes delivery, set-up, and take down
*All inflatable are cleaned after every use
*Concession items must be clean before returning
*Adult supervision is required with each inflatable rental
*We will work with every reasonable budget
*Please comply to all rules. Thank You